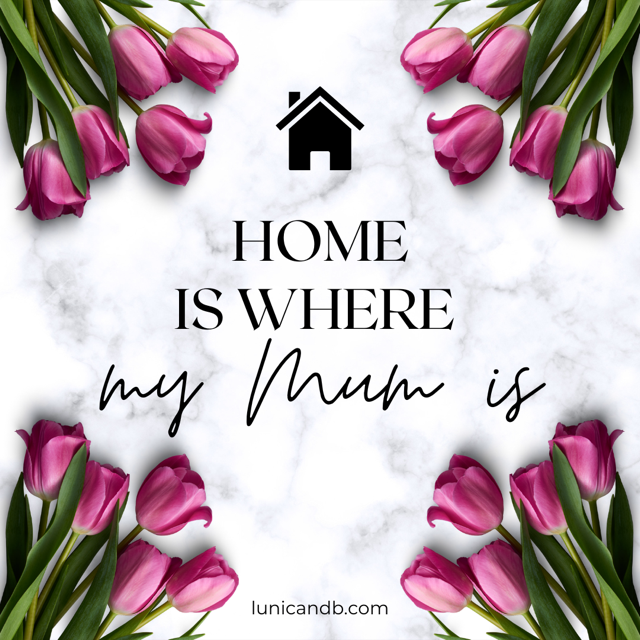 Decorating for Mother's Day: Thoughtful Ideas for Celebrating Moms and Mother Figures
Mother's Day is a special occasion that calls for a thoughtful and meaningful celebration of the moms and mother figures in our lives. If you're looking for unique and creative ways to honor and spoil the special women in your life this Mother's Day, consider these home decor ideas that are sure to impress.
Create a Mother's Day brunch table: Set a beautiful table for brunch to show your mom how much you appreciate her. Use a tablecloth or table runner in her favorite color, add floral centerpieces, and bring out the good china and glassware. Place a small gift or a handwritten card at each place setting for a personal touch.
Personalize her space: Surprise your mom with a personalized gift or decoration for her living room or bedroom. Consider adding custom throw pillows with her initials or a favorite quote, a personalized photo frame or wall art, or a monogrammed throw blanket. Lunic & B. home decor offers a variety of personalized home decor items that are perfect for Mother's Day.
Bring the outdoors in: Incorporate natural elements into your home decor with potted plants, fresh flowers, or a small herb garden. Use beautiful vases or planters and consider adding a small note or card to each plant or flower to express your love and appreciation.
Create a photo wall: A beautiful way to honor your mom is by creating a photo wall of your favorite memories together. Use a gallery wall template or create your own display using unique frames or a mix of photos and artwork. Consider adding a special touch by including handwritten notes or quotes that celebrate your mom.
Make a homemade gift: If you're feeling crafty, consider making a homemade gift that your mom will cherish. Some ideas include a handmade vase, a personalized photo album, or a DIY candle or soap-making kit. Consider incorporating her favorite colors or scents into your gift for an extra special touch. Lunic & B. home decor also offers DIY kits that are perfect for Mother's Day.
Upgrade her bedding: Give your mom the gift of comfort and luxury by upgrading her bedding. Consider getting her a new set of high-quality sheets, a cozy throw blanket, or a plush comforter in her favorite color. Add some throw pillows with fun patterns or quotes to make it even more special. Lunic & B. home decor offers a variety of bedding options that are both comfortable and stylish.
These are just a few ideas to inspire your home decor for Mother's Day. Remember, the best way to honor your mom is by showing her how much you love and appreciate her. By putting in a little effort and thought into your decor, and with the help of Lunic & B. home decor, you can create a beautiful and meaningful celebration that she'll never forget.