Article: Spring Forward with Style: 5 Home Decor Trends You Can't Miss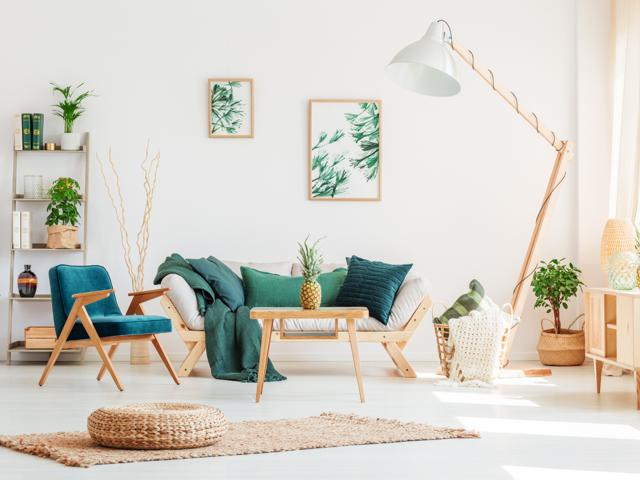 Spring Forward with Style: 5 Home Decor Trends You Can't Miss
Spring is here, and with it comes a fresh start and a chance to refresh our homes with new decor. This year, the spring decor trends are all about bringing a touch of nature inside, mixing bold patterns and bright colors, and creating cozy and comfortable spaces. If you're looking to incorporate these trends into your home, you can find all the latest styles and designs on lunicandb.com, a leading home decor website. Here are some of the top home decor spring trends for 2023.
Natural Materials and Textures The use of natural materials and textures in home decor is a trend that is here to stay. This spring, we are seeing a lot of woven materials, such as jute and rattan, and raw materials, such as unfinished wood, stone, and clay. These materials add warmth and texture to any space and can be incorporated into furniture, decor accents, and even wall art.

Bold Patterns and Colors Spring is the perfect time to add some bold patterns and bright colors to your home. This year, we are seeing a lot of floral and botanical patterns, as well as bold stripes and geometric shapes. When it comes to colors, pastels are always popular in the spring, but this year, we are also seeing a lot of bold, saturated hues, such as emerald green, navy blue, and deep red.

Sustainable and Eco-Friendly Decor As people become more aware of the impact their choices have on the environment, sustainable and eco-friendly decor is becoming increasingly popular. This spring, look for decor made from recycled materials, such as glass and plastic, as well as furniture and decor made from sustainable materials, such as bamboo and cork.

Cozy and Comfortable Spaces After spending so much time at home over the past couple of years, people are looking for ways to create cozy and comfortable spaces. This spring, look for plush pillows and throws, soft rugs, and comfortable seating options, such as oversized armchairs and sectionals.

Indoor-Outdoor Living With the warmer weather and longer days, many people are looking for ways to blur the line between indoor and outdoor living. This spring, look for decor and furniture that can be used both inside and outside, such as outdoor rugs, indoor-outdoor seating options, and decor accents that can be easily moved from inside to outside.
In conclusion, if you're looking to update your home with the latest spring decor trends, be sure to check out lunicandb.com. With a wide selection of styles and designs, you're sure to find everything you need to create a beautiful and welcoming home this spring.