Article: Embracing the Spirit of Summer: Home Decor Trends and Belated Celebrations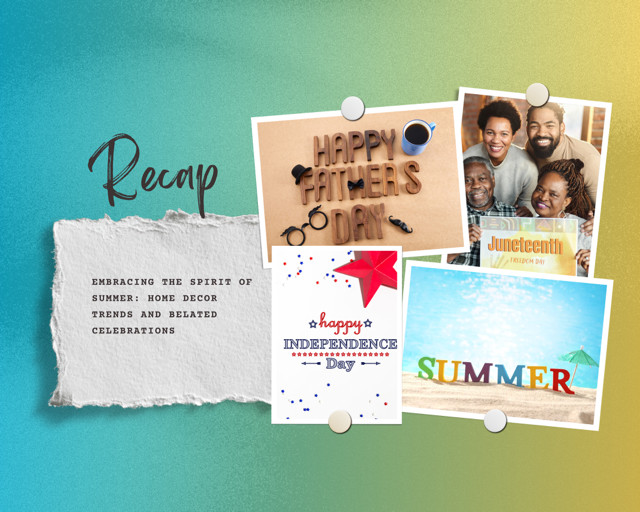 Embracing the Spirit of Summer: Home Decor Trends and Belated Celebrations
Hello, Dear Lunic & B. Community! It's been a delightful summer so far, and we hope you've been enjoying the sunny days and warm nights with your loved ones. We apologize for the absence of our blog posts in the past couple of months, as we missed the chance to celebrate some special occasions and share the latest home decor trends with you. But fear not, as we're back with a bang! In this blog post, we'll be combining the spirit of summer and the essence of missed holidays to bring you a delightful fusion of style and celebration.
***A Fashionably Belated Celebration***

Firstly, let's extend a belated but heartfelt Happy Father's Day to all the wonderful dads out there! Dads play a significant role in our lives, and even though we missed the official date, it's never too late to show our appreciation and love for them. One way to do this is by creating a warm and inviting space in your home that reflects their personality and interests.

Whether it's a cozy reading corner with vintage leather armchairs or a gallery wall showcasing cherished memories, incorporating personalized decor elements will make your home feel even more special. Don't forget to add some greenery with low-maintenance houseplants, which have become a popular trend this summer. Their presence not only adds a touch of nature but also contributes to a healthier and more harmonious living space.
***Honoring Juneteenth and Embracing Cultural Diversity***
Next, we want to recognize and celebrate Juneteenth, the historical day that symbolizes the end of slavery in the United States. As we commemorate this significant occasion, it's essential to highlight the importance of cultural diversity in our lives and homes.
Consider incorporating ethnic-inspired decor pieces, such as vibrant textiles, intricately patterned rugs, or handcrafted artwork. These additions not only add a unique touch to your living spaces but also promote cultural awareness and appreciation. Supporting local artisans and small businesses that celebrate diversity is another way to express solidarity and make a positive impact.
***A Patriotic Summer***
The Fourth of July is one of the most festive occasions in the summer, and while we may have missed the official date, the spirit of patriotism can still thrive in our hearts and homes. To keep the celebratory vibe going, consider incorporating a touch of Americana in your decor.

Red, white, and blue accents can add a dash of patriotic flair to your home without being overwhelming. Think decorative pillows, throw blankets, or table settings in these classic colors. Additionally, consider styling your outdoor spaces with cozy seating and fairy lights to create a welcoming ambiance for summer gatherings and barbecues.
***Embracing Summer Home Decor Trends***
Now that we've touched on the missed holidays, let's dive into some exciting home decor trends for this summer.
1. Coastal Chic: Bring the beach vibes into your home with coastal-inspired decor. Think sandy hues, seashell accents, and ocean-themed artwork. A rattan chair or a woven pendant light can add a touch of seaside charm.
2. Serene Nature: Create a peaceful oasis with nature-inspired decor. Incorporate earthy tones, botanical prints, and natural materials like jute and wood. This trend emphasizes relaxation and reconnecting with the outdoors.
3. Modern Boho: Combine the carefree spirit of bohemian style with contemporary elements. Mix and match patterns, use vibrant colors, and add plenty of textured elements for a playful yet sophisticated look.
In conclusion, while we may have missed a few holidays, the spirit of celebration and summer home decor trends continue to thrive at Lunic & B. We hope these ideas have inspired you to infuse your home with warmth, style, and cultural appreciation. As always, we are here to help you find the perfect decor pieces that reflect your personality and make your space truly yours. Happy summer and may the rest of the season be filled with joy, love, and beautiful memories!